A Primer on Reptiles & Amphibians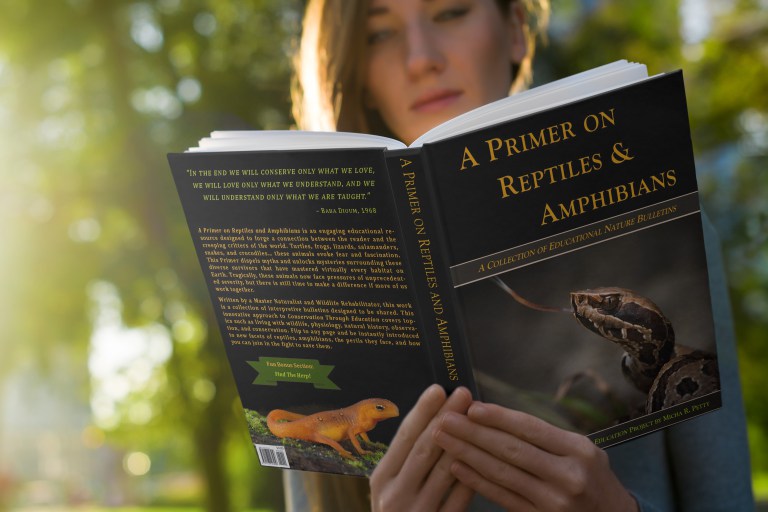 Welcome to the Primer!

Discover why this award-winning resource has been gathering endorsements from some of the biggest names in herpetology!
"A Primer on Reptiles & Amphibians" looks like an outstanding educational product. I can tell from my first look that Micha has done an excellent job of covering a variety of herp topics everyone wonders about."
—Dr. J. Whitfield "Whit" Gibbons
Professor Emeritus of Ecology, University of Georgia
READ WHAT OTHERS ARE SAYING ABOUT THE PROJECT!
"I hope it gets, because it deserves, wide attention. It is a must-read for anyone, child or adult, interested in or just curious about herps or nature."


—Dr. Brian Crother

Professor of Biological Sciences, Southeastern Louisiana University; Chair of the Committee On Standard English And Scientific Names, Society for the Study of Amphibians and Reptiles

"If I were still teaching herpetology, the Primer would be required reading for all students, both graduates and undergraduates. I am going to recommend to others to do the same."


—Dr. J. Whitfield "Whit" Gibbons

Professor Emeritus of Ecology, University of Georgia; renowned author of numerous books and hundreds of papers on herpetology

"A truly extraordinary and exceptional website and a most remarkable effort to put this amount of herpetological information together. I commend Micha's thorough dedication to the teaching and welfare of herps."


—Dr. Stan Trauth

Emeritus Professor of Zoology, Arkansas State University; Past President (2012-2013), Herpetologists' League

"This is an unusually broad primer on the subject, with very readable, illustrated, page-long essays on nearly every issue imaginable, within the topic. It would make a great gift for that budding herpetologist that every family has, somewhere."


—Dr. Leslie V. Boyer

Professor Emerita of Pathology at The University of Arizona; Founding Director, VIPER Institute

"I have had the opportunity to get a sneak peek at this book and it is really fabulous. The author, Micha Petty has done an exceptional job truly creating a primer. I can't wait to add it to my bookshelf!"


—Dr. Lori Neuman-Lee

Assistant Professor of Biological Sciences, Arkansas State University

"This book is going to make a difference!"


—Dr. Harry W. Greene

Professor Emeritus; Stephen H. Weiss Presidential Fellow; Faculty Curator of Herpetology, Cornell University Museum of Vertebrates
YOU CAN DOWNLOAD THE PRIMER NOW FOR FREE, NO STRINGS ATTACHED!
(WE JUST WANT THE WORLD TO GET TO KNOW REPTILES AND AMPHIBIANS BETTER!)
OR YOU CAN BUY A NICE HARDCOVER (PROCEEDS HELP THE CRITTERS!)
The Primer is about helping people understand and appreciate the diversity of life on Earth.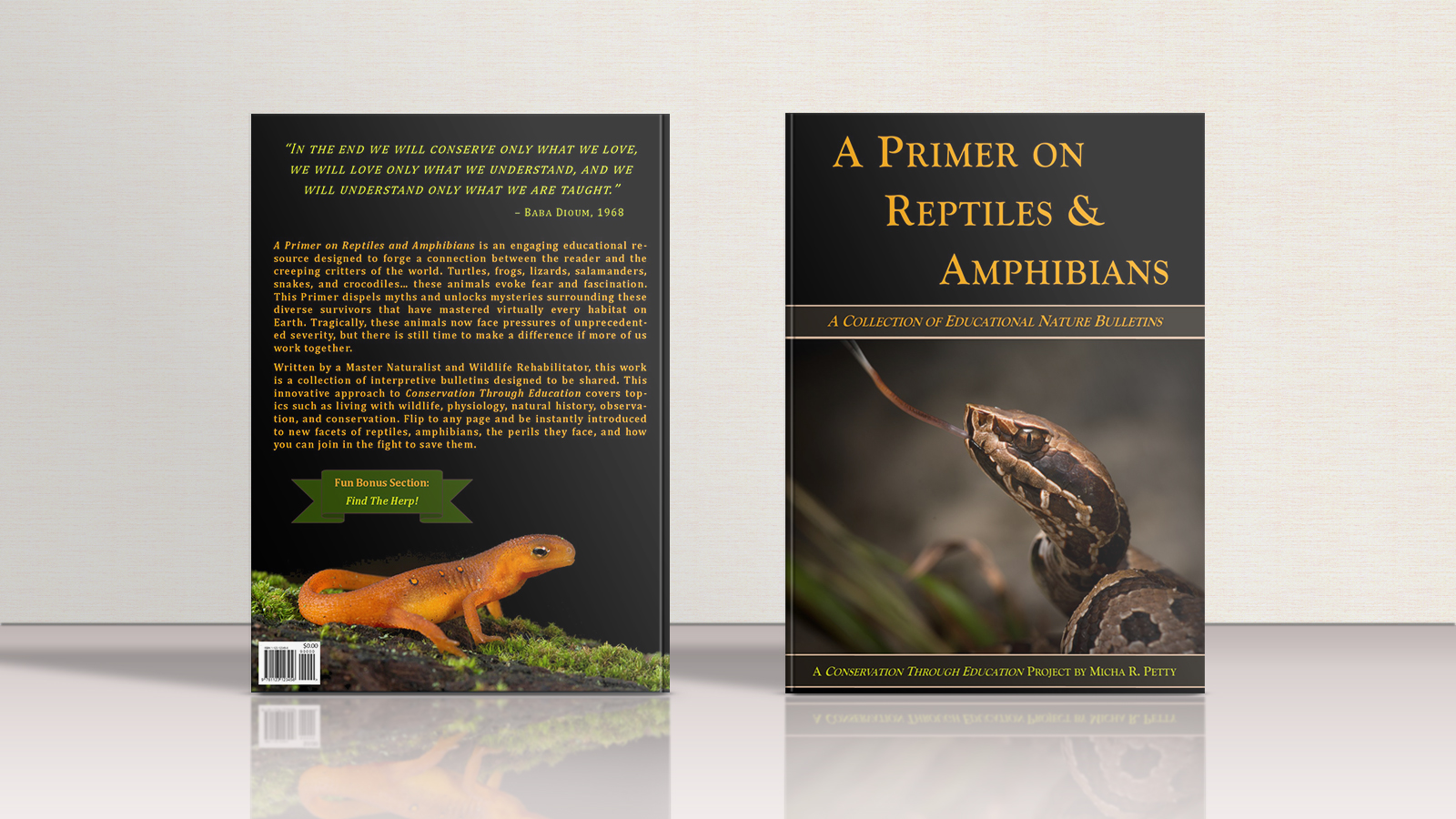 The Primer is suitable for all ages and experience levels. Each page is a different lesson, and it is full of beautiful color photographs. It is formatted as a collection of 8.5" x 11" bulletins, designed to be easily printed and shared.

The mission behind this book is to help more people get to know these fascinating animals and to raise awareness about their conservation concerns. Any proceeds go to support animal rescue and conservation.
From the Back Cover...
A Primer on Reptiles & Amphibians is an innovative educational resource designed to forge a connection between the reader and the creeping critters of the world. Turtles, frogs, lizards, salamanders, snakes, and crocodiles… these animals evoke fear and fascination. This primer dispels myths and unlocks mysteries surrounding these diverse survivors which have mastered virtually every habitat on Earth. Tragically, these animals now face pressures of unprecedented severity, but there is still time to make a difference if more of us work together.

Micha Petty is an international award-winning Master Naturalist and wildlife rehabilitator. This critically acclaimed debut volume is a collection of Micha's interpretive writings, carefully crafted to make learning easy for everyone. These bulletins display his passion for Conservation Through Education while covering topics such as living harmoniously with wildlife, physiology, natural history, observation, and conservation. Flip to any page to be instantly introduced to new facets of reptiles, amphibians, the perils they face, and how you can join the fight to save them!

SUBSCRIBE TO THE MAILING LIST FOR UPDATES
We have a lot more bulletins in the works- don't miss out!
This is a low volume list (we hate Spam, too!).
EVEN MORE REVIEWS FROM READERS LIKE YOU!
"I've been working in the field of conservation and wildlife education for ~8 years, and Micha's volume is one of the best resources I have come across. Whether you're a veteran herpetologist or have a budding curiosity about our scaly and permeable-skinned friends, this book is a good one to have around."


—Laura Lux

"An excellent effort, to be commended for it's up to date, research based take on husbandry and full of other interesting information. Well done Micha Petty and LEARN, this sets new standards for the hobby!"


—Advancing Herpetological Husbandry

London, England

"Guys... get in on this now! This is a wonderful resource for both professionals and novices. I have a photo in here so I'm a bit biased but this book has received praise from the likes of Whit Gibbons and others. Micha Petty has put a ton of work into this project and it shows. Do it!!"


—Paul-Erik Bakland

"This book is filled with great stuff! It's an amazing educational resource, so get yourself a copy!"


—Denise Cameron

"I just ordered Micha Petty's epic Primer on reptiles and amphibians and I suggest anyone that's into herps and education do the same! I haven't wanted a book this bad in a while!"


—Aaron Paul Tullock

"This is Awesome. Not only is it the absolute best literature for learning about reptiles and amphibians, but it has amazing photos. It's free to download and read but I highly suggest getting a hardback copy."


—Colt Mooney

"This is an amazing learning tool developed and written by Micha Petty. I recommend this to anyone seeking foundational knowledge and understanding of reptiles. I'll be adding it to my library as well, but you can't borrow mine. You need your own copy of this "labor of love". A tremendous amount of passion and love for reptiles went into it. Order this book!"


—Matthew E. Ruff

"Micha's passion for animals warms my heart and has even helped me get over my phobia of snakes! He has devoted his life to protecting critters and teaching people how to do the same."


—Kelsie Marie

"This is one of the very best texts I have ever read (multiple times) on the subject of reptiles and amphibians. This book deserves all of the support it can possibly get. It is innovative, educational, and has some incredible photography. The amount of work that has gone into this book by the author is absolutely astounding."


—Paul Beck

"You can preview the entire volume with quality images for free on the PDF version. After you do so, I think most of you will agree a very reasonably priced hardcover is a worthy purchase that goes to good cause."


—Mark Lotterhand

Author, In Search of New England's Pit Vipers

"A must have if you are interested in reptiles and amphibians at all!"


—Lisa Powers
OR BUY A NICE HARDCOVER (PROCEEDS HELP THE CRITTERS!)