If you have a reptile or amphibian in need of care in northwest Louisiana, click here.  If you have a non-native (pet) animal in need of assistance, click here.  L.E.A.R.N. takes in reptiles, amphibians, invertebrates and exotic birds, mammals and aquatic animals at our facility.
If you have found a baby bird, click here first to view a flowchart to determine if the animal is in need of assistance or not, and what you can do to help it.
If you have found a baby mammal, click here first to view a flowchart to determine if the animal is in need of assistance or not, and what you can do to help it.
A baby mammal or bird's best chance of a healthy life is with its mother, so please do not collect the animal unless you have looked at the corresponding flowchart above and followed the instructions.  Over half of the calls we get about "orphaned" wildlife are baby animals in a perfectly normal situation that does not require interference.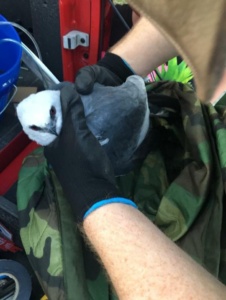 If you have found a mammal or bird that is obviously injured, or  if the flowcharts above indicate that an orphan is in need of asstanace, the correct action is to bring it to a wildlife rehabilitator licensed for the type of animal needing help.  Alternately, a licensed veterinarian can legally take in the animal for up to 72 hours for transfer to a licensed rehabilitator, if necessary.  It is not legal for you to try to rehabilitate the animal yourself.  It may also be noted that there is no rehabilitation of deer or alligators in Louisiana.
L.E.A.R.N. recommends Wildlife Education and Rehabilitation of Louisiana for species in NW Louisiana that L.E.A.R.N. does not serve.  Click here to visit their web site.
The official list of Louisiana licensed rehabilitators is located here.  The licensees are broken down by parish and species served.  You should start by calling the closest licensee to you that serves the type of animal you have, and work your way outward.  Many rehabilitators will be too busy to answer the phone when you call.  Some may be too busy to call you back in a timely fashion.  Leave a message, and then keep trying to reach someone.  You should plan on bringing the animal to the facility listed, as many rehabilitators do not have the manpower to drive to every animal in need.
If you have an animal that is not in distress, but you feel cannot remain where it is, such as a raccoon in your attic, the correct person to call in that scenario is a Nusiance Wildlife Control Operator.  The list of operators can be found here.  Further information about resolving wildlife conflicts is available on the WLF web site.
Additional links:
Living Alongside Wildlife– a web site about how to live in harmony with urban wildlife.
Please note that wildlife rehabilitators are not funded by any government agency, but are just concerned individuals trying to assist wildlife, so please consider making a donation if you can.