---
The Primer is expected to be finalized in the next few weeks.
There is a pre-release PDF of the Primer here.
Preview the Primer's KickStarter Campaign!  
(Set to go live next month)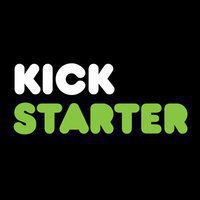 Scroll down to join the mailing list to receive updates such as when the campaign goes live!
---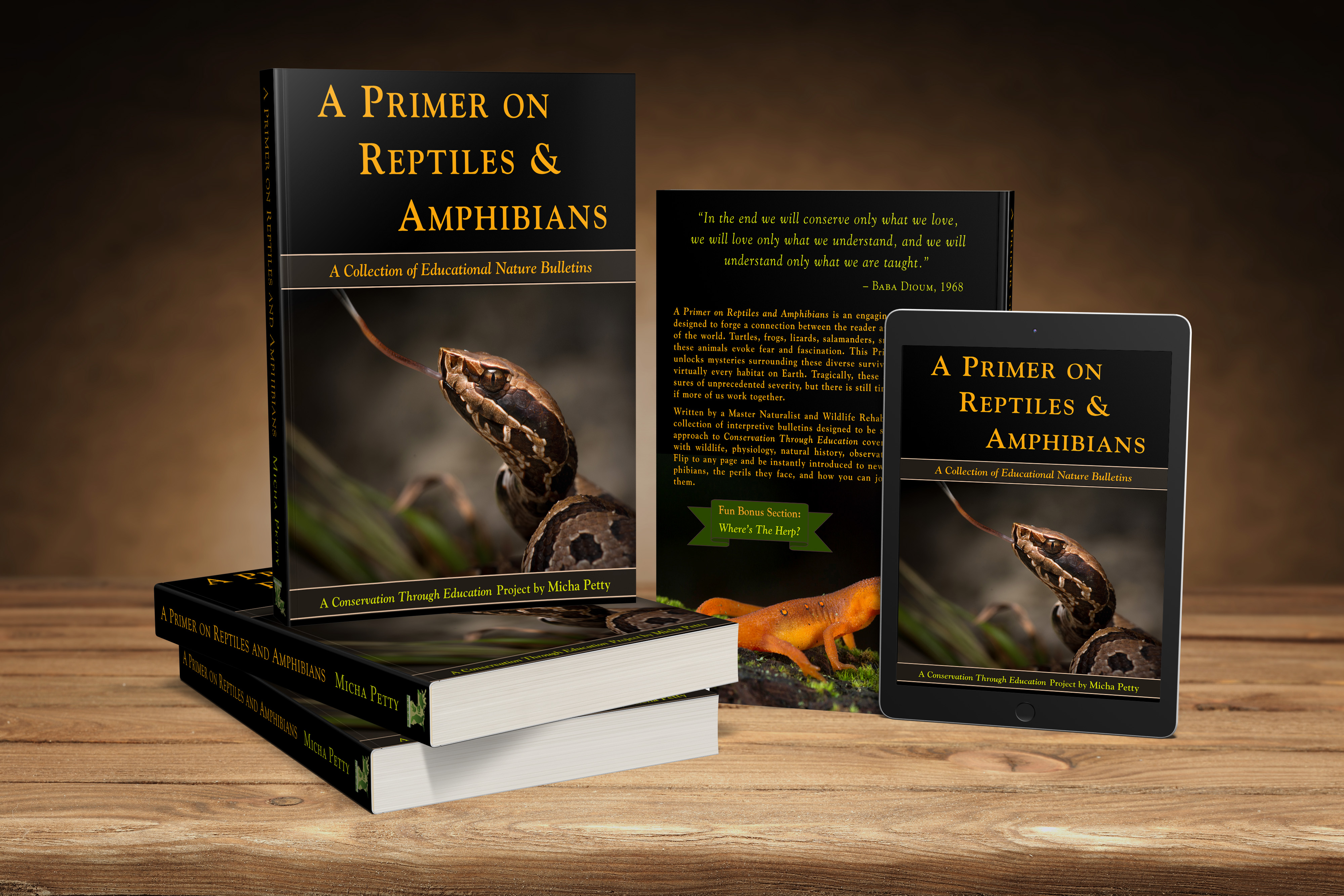 A Primer on Reptiles and Amphibians is an engaging educational resource designed to forge a connection between the reader and the creeping critters of the world.  Turtles, frogs, lizards, salamanders, snakes, and crocodiles… these animals evoke fear and fascination.  This Primer dispels myths and unlocks mysteries surrounding these diverse survivors that have mastered virtually every habitat on Earth.  Tragically, these animals now face pressures of unprecedented severity, but there is still time to make a difference if more of us work together.
Written as a modular collection of interpretive bulletins designed to be shared, this innovative approach to Conservation Through Education covers topics such as living with wildlife, physiology, natural history, observation, and conservation.  Scroll to any page and be instantly introduced to new facets of reptiles, amphibians, the perils they face, and what you can do to join in the fight to save them.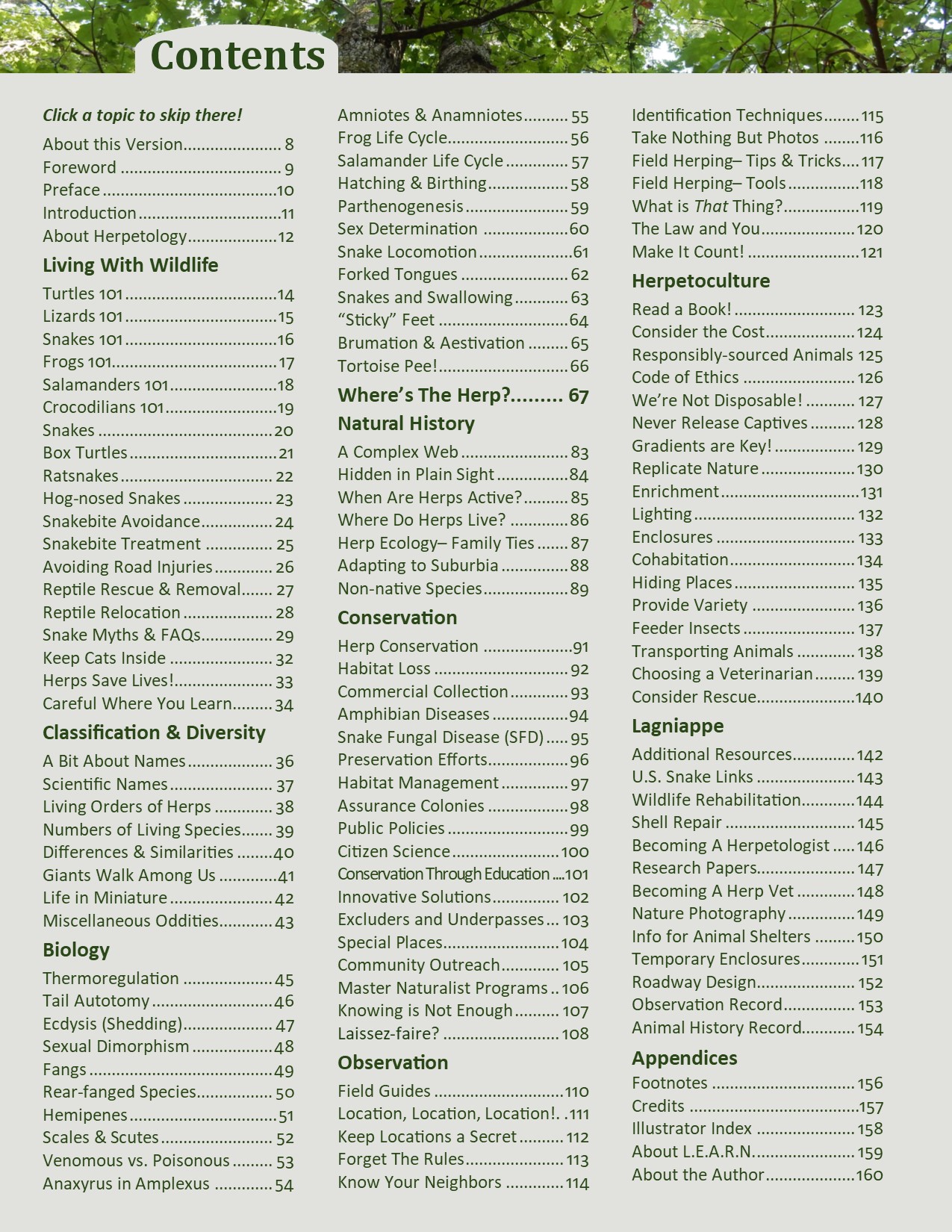 ---
What others are saying about the Primer…
"I hope it gets, because it deserves, wide attention. It is a must-read for anyone, child or adult, interested or just curious about herps or nature."
—Dr. Brian Crother, Professor of Biological Sciences, Southeastern Louisiana University; Chair of the Committee On Standard English And Scientific Names, Society for the Study of Amphibians and Reptiles
"A truly extraordinary and exceptional website and a most remarkable effort to put this amount of herpetological information together. I commend [the author's] thorough dedication to the teaching and welfare of herps."
—Dr. Stan Trauth, Emeritus Professor of Zoology, Arkansas State University; Past President (2012-2013), Herpetologists' League
"I'd be really excited to see this finished and distributed widely because to me it reads as a lot more accessible than most of what's out there, and that's really important for reaching new audiences and changing behaviors."
—Andrew Durso, Technical and Scientific Publications Editor at Max Planck Institute for Biogeochemistry; Author of Life is Short, but Snakes are Long
Click here to read the Foreword by Dr. Crother.
---
This collection is specifically formatted to be easily reproduced and used as educational materials by nature centers, conservation educators, naturalists and the like. It is being distributed for free in hopes that accurate information will more easily reach a greater percentage of the worldwide public than might be possible under a commercial model. It is particularly hoped that this project will assist educators in less-developed nations wishing to forward conservation goals in their region.
You are welcome to come collaborate or witness its development at the group that will support its distribution- Introduction to Herpetology on Facebook.
---
About the Author- Micha R. Petty
Micha rarely sleeps.  He is a Louisiana Master Naturalist, wildlife rehabilitator, and the President of L.E.A.R.N.  He funds his rescue and conservation efforts through his businesses as a contractor and REALTOR®.  He has loved reptiles and amphibians (also known as herps) since childhood and is glad to have a chance to be helping them now.  He has been observing and identifying herps in the wild for thirty-five years and has twenty-five years of experience with reptile husbandry.  His primary love is indigenous reptiles, and he practices Conservation Through Education whenever possible.
He is a member of the Society for the Study of Amphibians and Reptiles, the International Wildlife Rehabilitation Council, the Herpetologists' League, the American Society of Ichthyologists and Herpetologists, the Audubon Nature Institute and the Louisiana Wildlife Federation.  He serves as the Public Relations and Outreach Officer for the Louisiana Master Naturalist Association and on the board of the Northwest Chapter of the LMNA.  Micha has done over 50 news and television segments about animals and conservation.  To watch an ABC interview with the author at his rescue center, visit our Staff page.
---
Subscribe here to be periodically notified about updates to the Primer:
This is a low volume list (we hate Spam, too!).
---
If you are a photographer who might consider licensing some of your photos of reptiles and amphibians, please click here.
This work is licensed under a Creative Commons Attribution-NonCommercial-NoDerivatives 4.0 International License.